Mya Michelle Ward is a young teacher at Porter Elementary School in Johnson County. She dedicates her life to finding better, more exciting teaching methods for children who live in an ever-changing world. She pursued her passion for teaching with scholarship assistance from the Big Sandy Area Community Action Program.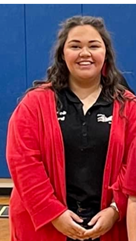 Many people notice Ms. Ward's patience and her kindness. Her way with children often catches the eye of those watching her interact with the children she teaches. It was back in 2022 when she had just graduated from Morehead State University in Morehead, Kentucky when she began looking for a job in education. She landed at Porter Elementary School as the school year began in August 2022 teaching Kindergarten. This year she has moved onto teaching math to 3rd graders. In addition to teaching, Ms. Ward also assists in coaching the elementary schools' Academic Team.
The job she found isn't always easy, but she sees it as a blessing stating, "I love what I do and can't imagine myself anywhere else."
CSBG Scholarships awarded to Ms. Ward in 2021 and 2022 through the Community Services Block Grant at Big Sandy Area Community Action Program helped her get where she is, and we couldn't be more proud!
Big Sandy Area Community Action Program is a nonprofit organization dedicated to providing a vast array of services, such as employment and training assistance, weatherization of homes, and area Head Start programs, in order to assist individuals and families in obtaining self-sufficiency. Through collaborative efforts of community and organizational partnerships, BSACAP seeks to improve the overall quality of life within the Floyd, Johnson, Martin, Magoffin, and Pike County communities. To learn more about BSACAP and their programs, visit www.bsacap.org or call the service office in your county.