Archive for the 'SCSEP' tag
Posted at 11:48 am in
News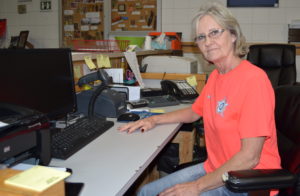 Johnson County Sheriff's Office Deputy Clerk Bonnie Jaynes spent 17 years out of the workforce, but is now back on the job with assistance from the Senior Community Service Employment Program offered through Big Sandy Area Community Action Program.
Jaynes was working as a nurses aid with Mountain Comprehensive Care when she was forced out of work by a series of back surgeries and recovery periods over a number of years. "I had always worked, my whole life, and so it was hard to adjust," she said. Jaynes said that being out of work left her feeling isolated and without purpose. "There was a lot of depression," she said. Though she is feeling better now, she is still limited in what she is able to do.
When Jaynes regained her strength and was cleared to return to work, she was eager, but encountered some difficulties. "Seventeen years is a long time to be out of work," she said. She explained that not only did she encounter the difficulties that many mature workers face when they look for work, but also that a large number of employers are asking for applications online and expect more computer skills, something she did not have a great deal of experience with before.
By chance, Jaynes stumbled upon information about the Senior Community Service Employment Program (SCSEP) offered through Big Sandy Area Community Action Program. "It turned out to be exactly what I needed," she said. SCSEP assists jobseekers who are at least 55 years old and who have limited job prospects to return to the workforce. Program participants work 15 hours per week at community and government agencies and receive job training and educational opportunities designed to assist them in finding new, permanent work.
Through the program, Jaynes was able to meet with fellow senior jobseekers and learn some new job search skills that could help her overcome some of the difficulties she encountered. "I enjoyed it," she said. "I went to the meetings and met new people. It really helped me. They understood what I needed and they understood my limitations."
Jaynes was placed with the Johnson County Sheriff's Office during her year with the program. As a Deputy Clerk, Jaynes manned the front desk and handled a lot of paperwork. The Sheriff's Office was so pleased with her work that they hired her for the job after her time with the program ended. "I love the people I work with. They are great to be around," she said. "I feel more useful, which makes me feel a lot better. Changing your environment and getting up for work, it just gives you a purpose and something to look forward to."
Jaynes said she would recommend the Senior Community Service Employment Program to others. "Go for it," she said. "Age shouldn't have a bearing on what you can do. We're as old as we feel."
The Senior Community Service Employment Program is funded under Title V of the Older Americans Act, through the National Council on the Aging.
Posted at 10:50 am in
News
For many, a job is something more than just a way to earn money. It is a chance to experience friendship, camaraderie, pride, and joy while being of service to others. And this is most certainly the case for Franceen Crum of Floyd County who gained employment through the Senior Community Service Employment Program at BSACAP.
Crum worked at Riverview Nursing Home in Prestonsburg for 15 years. She had gone to school to become a phlebotomist and was just about ready to take the state-mandated test when she found out that she would be forced to have open heart surgery and put her working life on hold.
After her recovery, Crum began to look for new work and saw a story in the newspaper about Big Sandy Area Community Action's Senior Community Service Employment Program (SCSEP), a program designed to help low-income people over the age of 55 to receive the job training, education, and support they may need to find employment. The time spent in the program is dedicated to paid community service work.
After enrolling in the program, Crum began working 15 hours each week at the Prestonsburg Senior Citizens Center. With her skills and her background in elder care, she was a perfect fit.
After her time with SCSEP ended, Crum was hired on at the Martin Senior Citizens center as a Center Aid. After a year in that position, Crum moved up to Cook's Assistant, and now serves as Head Cook for Floyd County Senior Citizens Centers.
Crum is charged with planning and cooking over 220 meals in a day to serve the six senior centers in Floyd County where food is delivered to centers and homes. In addition to adhering to state nutritional guidelines, Crum also received CPR and first aid training, drivers training, and nutritional training.
Crum says she loves working at the Senior Citizens Center. "They are a great bunch of people and we're like a big family. People laugh and joke and carry on, and we care about each other. It's just a really good place to be," she said. Crum said her time with SCSEP started a whole new life for her and that "It's a great joy to be helping other seniors."
Even after several setbacks, Crum, with the help of Big Sandy Area Community Action Program, was able to find her way back to serving our community, caring for our elderly, and enjoying a life filled with laughter and friendship.