Archive for the 'Job Fair' tag
Posted at 8:58 am in
News
A multi-employer "mega" job fair will be held at the Mountain Arts Center in Prestonsburg on Wednesday, April 27th from 10 a.m. – 3 p.m. The event will feature dozens of employers from around the Big Sandy region who are ready to hire their next employees.
Big Sandy Area Community Action Program (BSACAP) is hosting the event in partnership with the Kentucky Career Center, Big Sandy Community and Technical College's Workforce Solutions program, the American Job Center, and the Eastern Kentucky Concentrated Employment Program (EKCEP).
Employers joining the event include energy providers, coal, natural gas, construction, healthcare, transportation, corrections, retail, and several other sectors.
"We are excited to be able to offer a large, in-person event again," said BSACAP Executive Director Wanda Thacker. "The last two years have been difficult for job seekers and employers alike, so we are happy that job seekers will have the opportunity to talk to so many employers in a single day and that employers can spread the word about their available positions directly to the community."
Special to this event, job seekers will be able to gain VIP early access to employers when they register to speak with a Career Advisor about creating or updating a resume.
Kentucky Career Center One Stop Operator Sarah Hill explained, "Career Advisors are resume experts who really know what employers are looking for and how you can best present yourself to them. Having a good, strong resume in hand when you walk up to a potential employer gives you the confident and professional appearance that you're striving for. VIP access to the job fair is really going to give people their best chance to make a good first impression."
To register for VIP access to the job fair, visit bsacap.org/wioa, call (606) 789-2857, or email CareerHelp@bsacap.org.
On-site registration will take place on the day of the event, April 27th, but VIP access can only be granted ahead of time until April 26th.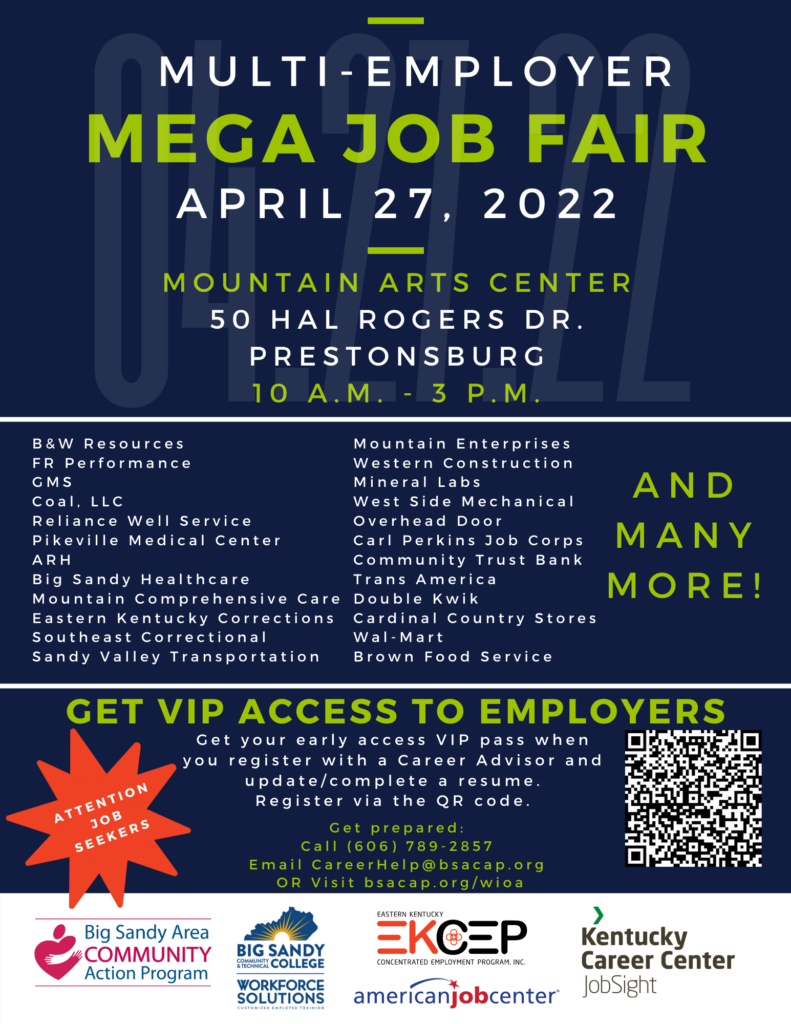 Posted at 3:33 pm in
News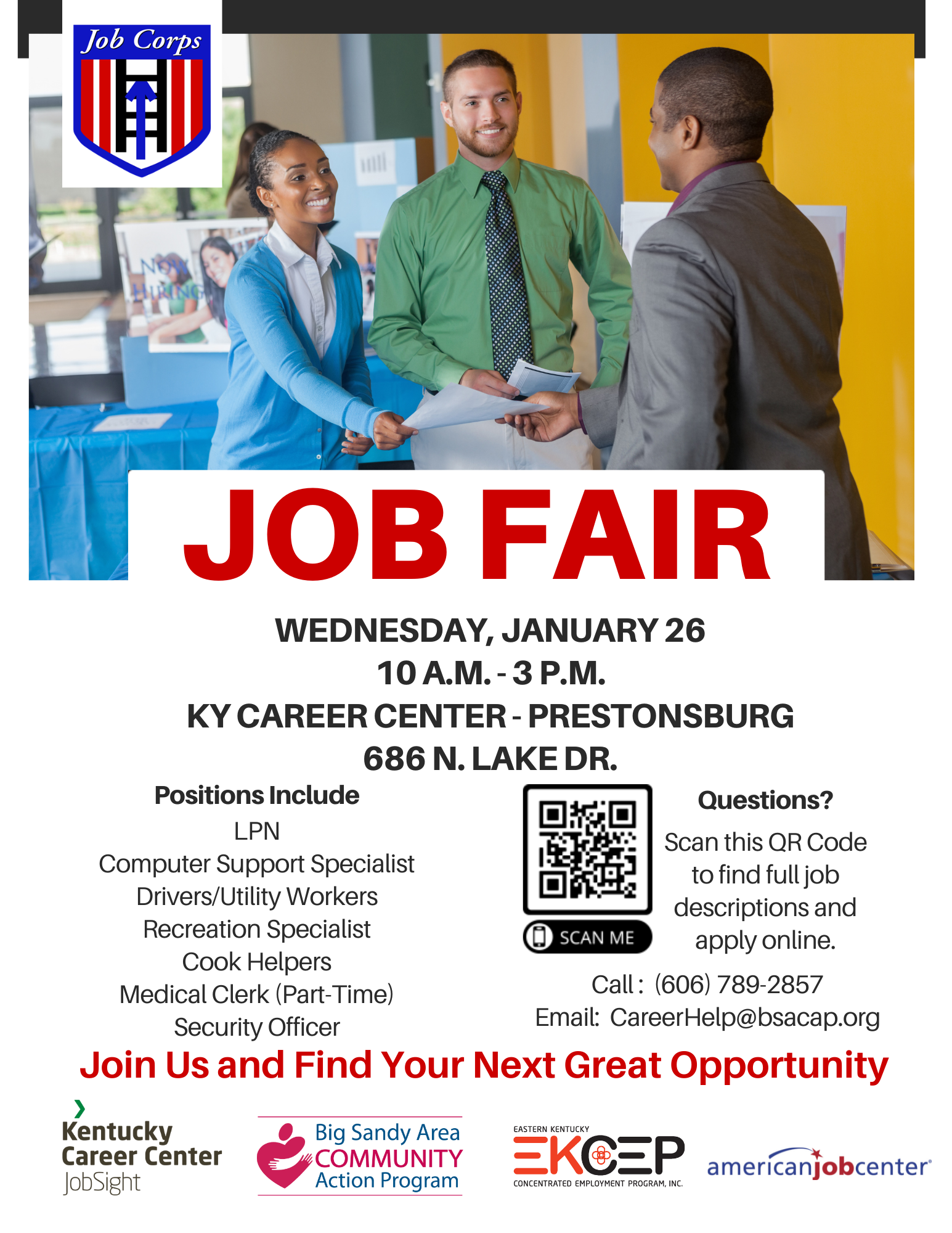 Posted at 8:55 am in
News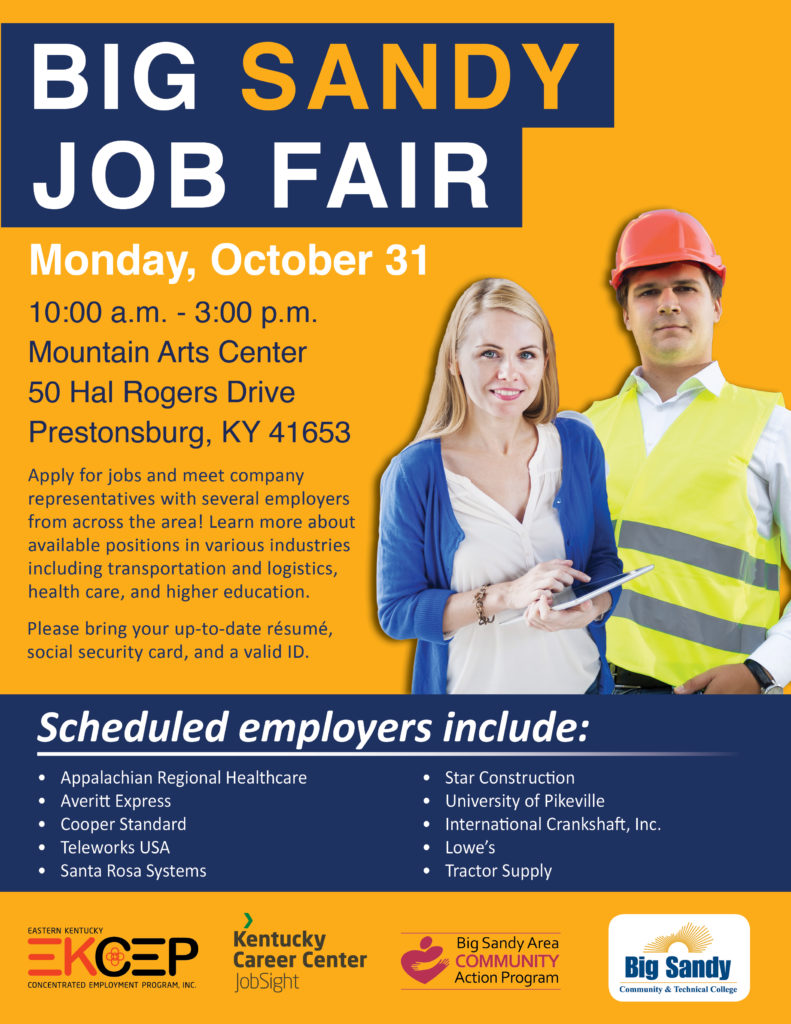 Posted at 9:23 am in
News
Dozens of jobseekers recently gathered at the Pike County Public Library last week to meet and interview with representatives of Rogers Group Inc., a family-owned construction service with more than 70 branches and 1,800 employees across nine states.
Big Sandy Area Community Action Program (BSACAP) in coordination with Eastern Kentucky Concentration Employment (EKCEP) hosted the Job Fair and worked to connect local people with the employer.
Sandy Grimm, Career Advisor with BSACAP explained that former coal miners in the area have the skills that the limestone company is looking for. "So many of the hard skills our miners have are transferable to the limestone business, and Rogers Group is looking for workers with the soft skills, like dedication and responsibility, to make sure that production actually gets done. They love the integrity of the coal miner," she said.
Area families who have been hit by the downturn in the coal industry are looking at all of their options and using Job Fairs hosted by BSACAP and EKCEP to connect with employers both near and far. At the Rogers Group Job Fair, applicants were able to fill out their applications and have interviews right away.
Job Fairs are just one way that BSACAP helps eastern Kentucky to get back to work. Coal miners who have been laid off from their local jobs have also connected with the Hiring Our Miners Everyday Program (HOME), which helps miners and their spouses receive the support needed to help them become better qualified for an enhanced range of job prospects. HOME helps people to receive on-the-job training, classroom training, basic academic skills, certification/licensing, skilled apprenticeships, and other services. HOME was created by Eastern Kentucky Concentrated Employment Program, Inc. (EKCEP) with a two-year National Emergency Grant from the U.S. Department of Labor's Employment and Training Administration. The program is open to the residents and employers who meet the grant specifications.
In addition to the HOME program, BSACAP offers employment and training services to Adult and Dislocated Workers through the Workforce Investment and Opportunity Act. Adult and Dislocated Workers Services uses a variety of resources to help customers identify their interests and abilities, understand the job market, obtain training and develop skills, and advance their careers.
Funding for the Adult and Dislocated Workers Services is made possible by the Workforce Investment and Opportunity Act of 2014 and the U.S. Department of Labor through the Department of Training and Re-Employment and the Eastern Kentucky Concentrated Employment Program, Inc. (EKCEP).
Grimm encourages job seekers to reach out to BSACAP to help them connect with work opportunities and discover ways to become more marketable. "[Employers] need what we have here. When we can connect skilled, hard workers with them, it's a win-win for everyone," she said.
Big Sandy Area Community Action Program is a nonprofit organization dedicated to providing a vast array of services, such as employment and training assistance, weatherization of homes, and area Head Start programs, in order to assist individuals and families in obtaining self-sufficiency. Through collaborative efforts of community and organizational partnerships, BSACAP seeks to improve the overall quality of life within the Floyd, Johnson, Martin, Magoffin, and Pike County communities. To learn more about BSACAP and their programs, visit www.bsacap.org or call the service office in your county.