Archive for the 'WIOA' tag
Posted at 2:22 pm in
News
We have an exciting opportunity coming up next week and we would love for you to join us!
Re-Brand Your Communication Style
with Communication is KEY
Wednesday, Oct. 13
11 a.m. – 12 p.m.
In just one hour ONLINE, you will…
Identify your communication style.
Learn how to use it to say what you mean, and mean what you say.
Understand why having strong communication skills is necessary to achieve your goals.
Identify and overcome common pitfalls.
Re-brand your communication style and get to where you are going.
BSCTC, BSACAP, and the Kentucky Career Center will be joined by Rachelle Burchett, an author, leader, motivator, and creative business professional who delivers results with action-packed energy. She leads by developing team members into trailblazers, thinking innovatively creating strategic/communication action plans, and finding solutions to workforce needs.
Get registered today! It's completely free and we'd love to have you there.
If you have any questions email us at CareerHelp@bsacap.org.
Posted at 10:58 am in
News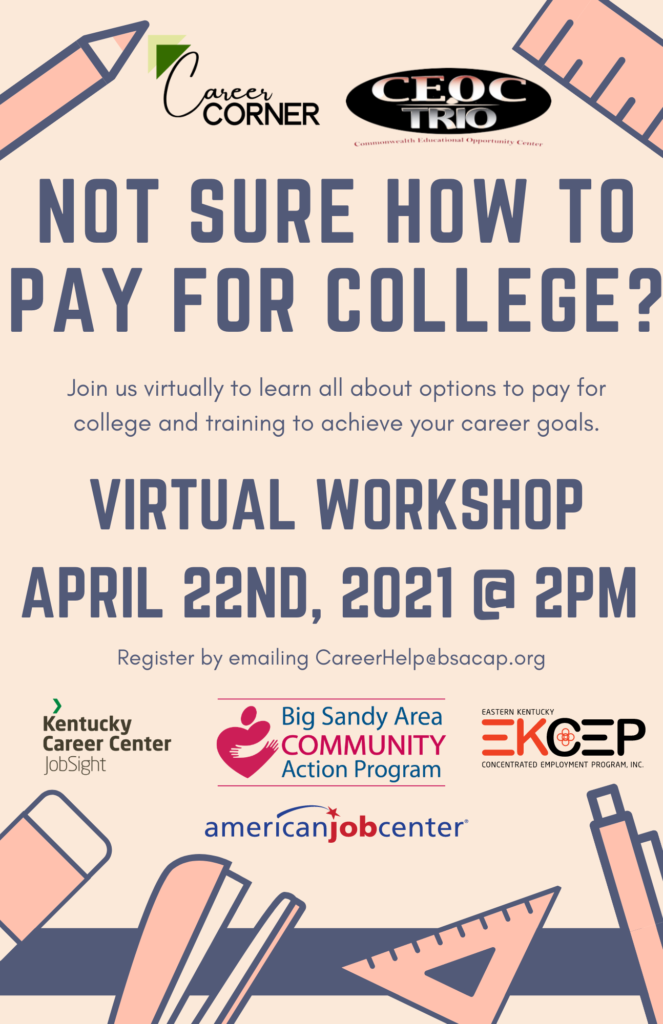 Posted at 10:54 am in
News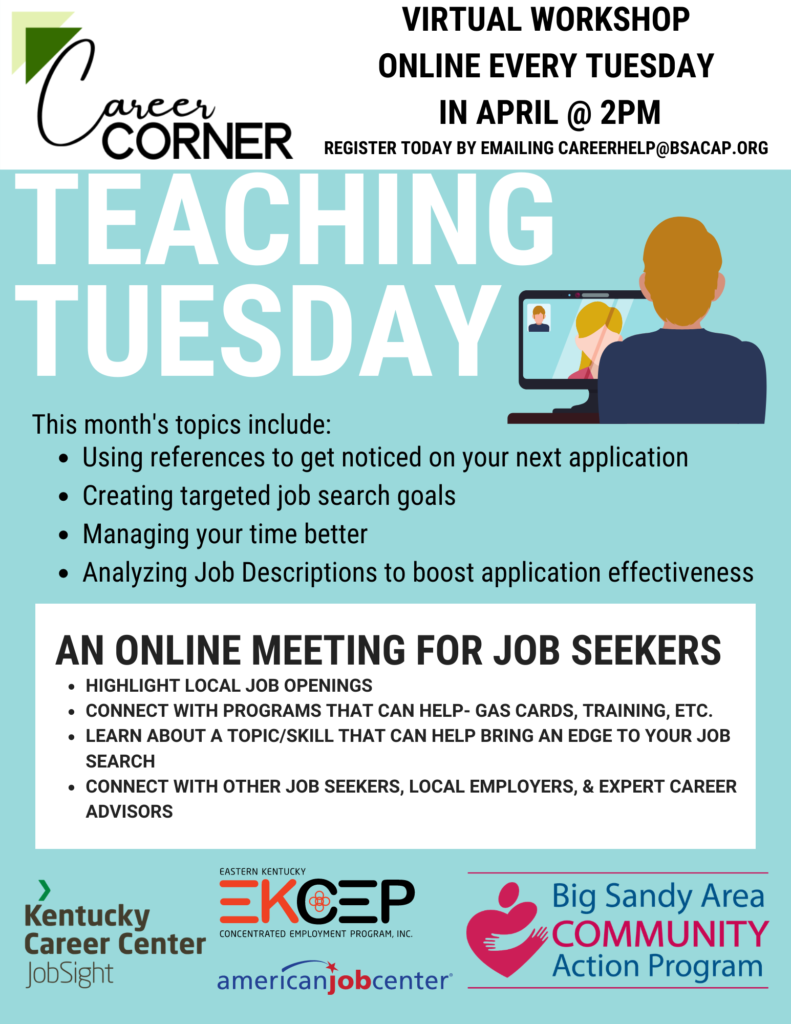 Posted at 11:03 am in
News
Posted at 3:56 pm in
News
Phones have been ringing off the hook for months at Big Sandy Area Community Action Program offices as the number of requests for help from the local nonprofit sky-rocketed due to the coronavirus pandemic and the economic hardships it caused.
All told, since April of 2020, the agency has provided $2,744,210 in LIHEAP funds to local individuals and families, filling nearly 14,000 requests for assistance.
The agency finished their fall Low Income Home Energy Assistance Program (LIHEAP) season on December 11. Through this portion of the LIHEAP program, $542,900 was used to fill 3,058 requests for help from households in need to assist with winter heating costs.
Unusual for the nonprofit, they were able to provide spring and summer cooling LIHEAP assistance this year as well, due to the economic hardship generated by the COVID-19 pandemic. $2,148,889 was provided to local households for these two programs, ensuring that 10,426 requests for energy assistance were filled.
In December, BSACAP exhausted the Healthy at Home funds provided to their agency for distribution. The agency distributed $1,347,320 in Healthy at Home Funds and filled 3,785 requests for assistance across their five county service area.
The Healthy at Home Utility Relief Fund provided relief to Kentuckians affected by COVID-19 who needed assistance with their water, wastewater, electric, or natural gas service. BSACAP partnered Community Action Kentucky and Team Kentucky to distribute these funds in Floyd, Johnson, Magoffin, Martin, and Pike counties.
The agency also used funding from the Coronavirus Aid, Relief, and Economic Security (CARES) Act to offer additional water, wastewater, and garbage bill assistance to households that had fallen behind on their bills. Across the area, 999 households received $127,629 to help them maintain health and hygiene at home through the agency's CARES Act utility assistance program.
Through their housing assistance program, BSACAP ensured that 53 men, women, and children were able to gain clean, safe, and stable housing, protecting them both from the elements and from the coronavirus.
BSACAP's workforce and employment staff members completed well over 10,000 unemployment related tasks. They answered phones, answered questions, assisted with forms, corrected files, and other work as they stepped up to the unemployment crisis the workforce faced since April of 2020.
To assist those who lost their job due to COVID-19, the agency also distributed $25,915 in Team Kentucky Funds to 101 households. The funds were used to assist those impacted by the "stay-at-home" orders to pay their rent, keep their vehicle, and buy groceries and other household necessities.
"This has been a tremendously challenging year for so many people," BSACAP Executive Director Wanda Thacker said. "Our agency has been running at top speed continuously for about 10 months in order to meet the needs of our communities. We know that we haven't been able to reach every single person, but thousands of families across the Big Sandy area have been pulled back from the edge of disaster because of this work. We are grateful that we have had the opportunity to provide so many services to local people."
BSACAP is currently operating the winter LIHEAP crisis season. LIHEAP is funded through Community Action Kentucky (CAK), the Cabinet for Health and Family Services, and the U.S. Department of Health and Human Services (DHHS). Funding for these projects is made possible, in part, by Community Services Block Grant with funds made available by the Cabinet for Health and Family Services and the U.S. Department of Health and Human Services.
Posted at 10:23 am in
News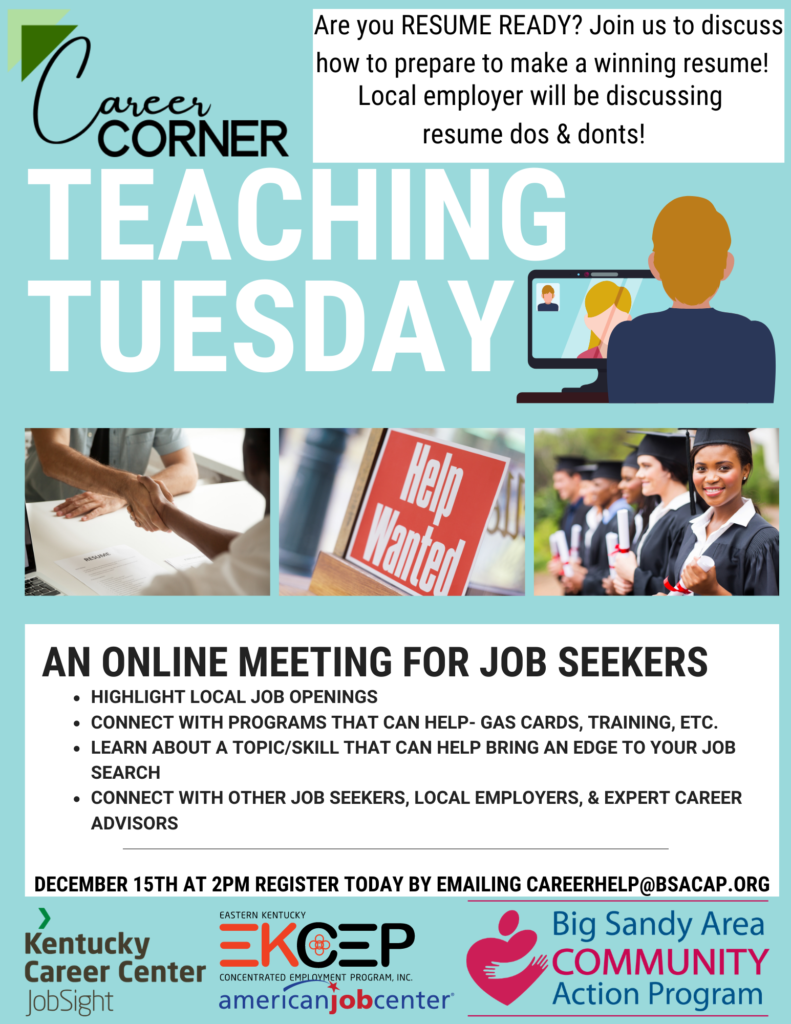 Posted at 4:04 pm in
News

Big Sandy Area Community Action Program (BSACAP) is pleased to announce that an all-new youth program will be coming to the agency in October.
For over 50 years, BSACAP has been providing workforce services to the people of the Big Sandy Valley, and this October the agency will continue to provide dynamic and innovative programs with the addition of a Justice-Involved Youth Program.
This new program will target youth ages 18-24 who have been involved with the criminal justice system at some point in their lives. The program will provide mentorship, educational opportunities, and intensive one-on-one job and career counseling with the aim of helping young adults to recover from their mistakes, build a life they can be proud of, and make our communities a better place to live.
The program will be available throughout Eastern Kentucky Concentrated Employment Program's (EKCEP) 23 county service area and BSACAP has been awarded the contract to administer the program in Floyd, Johnson, Magoffin, Martin, and Pike counties.
If you or someone you know is interested in learning more about the program, call your local BSACAP service office at the end of September and find out how you can be involved in this exciting new opportunity.
Floyd County: 606-874-3595 or 606-889-1772
Johnson County: 606-789-3641
Magoffin County: 606-349-2217
Martin County: 606-298-3217
Pike County: 606-432-2775 or 606-433-7721
Posted at 2:23 pm in
News
Harbor Freight Tools, a retailer providing a variety of tools, automotive supplies, and home improvement items, opened a new store in Paintsville last month and Big Sandy Community Action Program's Career Services team helped them to connect with strong candidates for employment and get them ready to start their new jobs.
In coordination with Eastern Kentucky Concentrated Employment Program (EKCEP) and Kentucky Career Centers, BSACAP's Community Action Career Services team assisted the company in finding, hiring, and onboarding employees in time for the grand opening.
Harbor Freight connected with BSACAP's Employer Account Representative who learned about the company's local employment needs and expectations.
In order to ensure that the company was able to open the Paintsville store on time, BSACAP advertised for and then hosted a job fair at the Country Music Highway Museum. Over 200 local jobseekers were able to meet with company representatives and participate in on-the-spot interviews. Career Advisors ensured the event moved smoothly by assisting jobseekers with registration and paperwork.
Community Action Career Services Manager Erica Ash said, "The central goal of our work is developing the local economy. So we want to help our clients through the hiring process from start to finish. We are working to help people access the education and training they need to be strong employees and then helping them connect to employers. And employers know they can reach out to us when they are looking for strong candidates to work for them and when they need help with planning for their growing businesses."
After a busy and successful job fair, the store's new hires needed to complete begin their training; however, work was still being completed on the store's interior and everyone needed to stay on schedule.
After learning of the store's needs, BSACAP was able to arrange for Store Manager Billy McGuire to conduct the computer-based portion of the onboarding process at the Paintsville Community Action office. By providing the employer with a conference room and computers, along with internet and phone access, BSACAP ensured that the new area business was able to open the store on time and with 40 new employees.
Mike Howell, Executive Director of BSACAP said, "This company offered 40 new jobs to local people who will be paid over the minimum wage and who have opportunities to earn bonuses. We need to see more employers moving into the area who are ready to pay better wages. It is wonderful to that people are setting up shop in our area and we want to support them any way we possibly can."
BSACAP's Community Action Career Services are made available to jobseekers and employers through the Workforce Innovation and Opportunities Act (WIOA).
Posted at 2:20 pm in
News
When Logan Corporation set up shop in Salyersville, they began reaching out to local partners to help their business grow and thrive. Their research into hiring in the region and their area connections pointed them to Eastern Kentucky Concentrated Employment Program and Big Sandy Area Community Action Program's Employer Services Team, who helped them find the best path to success for them.
Joey Osborne, the Employer Account Representative for BSACAP, met with Randy Risner, the General Manager over Manufacturing and Chief Design Engineer for Logan Corp. Risner explained that he had a lot of a lot of interest from applicants, but wading through the stacks of applications was time consuming and reached a point where it was unhelpful. "We had a lot of applicants coming in, but there were a lot people who had no background in the work. Hiring anyone is a gamble, but I just had a big stack of papers and not much information to go on," Risner said.
BSACAP's Employer Account Representative introduced Risner to the options available to him through the Employer Services Team. Once Risner explained his needs, BSACAP's WIOA Career Advisors began screening applicants and making referrals for truly qualified applicants. Risner said that having a steady stream of vetted applicants made his hiring work much easier. "There are a lot people who just sign up to sign up with us. I would rather see applicants who are going through a hiring program and who are looking for work in the right way, the smart way. They are the ones who tend to last longer."
And employee retention rates are critical to Logan's success. Risner explained, "We have clients and customers who make yearly orders. Most of the time, they want exactly what they had the year before. If I have a high turnover rate, I won't have people who have a clue what was done the year before."
Additionally, Risner must train an employee for two to three months before they know the work and they need at least a year before they become fully reliable workers due to the nature of products the company produces. BSACAP is able to assist him with this as well through cost-sharing on-the-job training opportunities. During the time an employee is being trained, some of the cost of that employee is offset by funds made available through the Employer Services Team as part of the National Emergency Grant and WIOA.
For Logan Corporation, having vetted applicants and being able to offset the cost of training new hires by working with EKCEP and BSACAP provided them with a reliable path to growth.
Posted at 2:18 pm in
News
Corey Conley, a resident of Paintsville, performed equipment repair for mining operations in the area and his work was based out of Huntington, WV. In July of 2016, Conley was laid off from his job due to the downturn in the coal industry. "Your life changes dramatically when you're laid off. All of a sudden you have to worry about providing for your family where everything was taken care of before," he said.
As a dislocated worker, Conley was eligible to take part in the Community Impact Grant administered through Eastern Kentucky Concentrated Employment Program and Big Sandy Area Community Action Program. The Community Impact Grant is a National Emergency Grant. It provides funds to assist individuals who served in ancillary positions to the coal industry to receive education and training that will help them to transition into new work.
Conley said that he had always been mechanically inclined and felt that becoming a machinist would be a great new path for him. With the assistance of BSACAP's Career Advisor Sandy Grimm, Conley prepared to attend the CNC Machinist School in Indiana. The training required for his certification meant that he spent nearly four months away from home, but it gave him a great opportunity to meet new people and study with really good instructors. Conley said that working with Grimm was great. "Sandy was awesome. She told me up front that it was going to be hard, but she made sure that I had everything that I needed for school and she called to check in and make sure that everything was going well," he said.
After receiving his certification, Conley became an instructor at the East Kentucky Advanced Manufacturing Institute (eKAMI) in his hometown of Paintsville and began teaching classes.
EKAMI opened in February and will offer 16-week training courses in fields related to advanced manufacturing including machine building and tool maintenance required for both the general private sector and the aerospace industry.
After spending eight years driving to Huntington for work every day, Conley is excited to have steady work closer to home.
BSACAP's Community Action Career Services are made available to jobseekers and employers through the Workforce Innovation and Opportunities Act (WIOA).