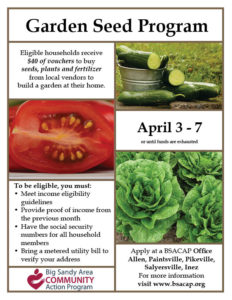 Applications for Big Sandy Area Community Action Program's annual Garden Seed Program will be taken on a first come, first serve basis April 3 – 7 at each of the BSACAP offices.
The Garden Seed Program offers qualifying low-income households $40 in vouchers to purchase seeds, plants, and fertilizer at local vendors so that area families can build a garden at their home.
"It's a very simple program, but one that add tremendous value to the people we serve," said Big Sandy Area Community Action Program Executive Director Mike Howell. "Our mission is to help low-income people become more self-sufficient, and the Garden Seed Program accomplishes that by helping people to get access to fresh and healthy food and lowering their grocery bill."
To be eligible for the program, a household must:
• Meet income eligibility guidelines
• Provide proof of income from the previous month
• Have the social security numbers for all household members
• Bring a metered utility bill to verify their address
Applications will be taken 8 a.m. – 4:30 p.m., April 3-7, at the BSACAP offices located Allen, Paintsville, Salyersville, Inez, and Pikeville.
BSACAP will also offer a "Ready to Garden" workshop at each of their offices. The workshop is designed to help people learn how to start a garden, the best places to set it up at your home, when to plant different produce, and more.
To learn more about the Garden Seed Program or the "Ready to Garden" workshop, please call (606) 789-3641.
Big Sandy Area Community Action Program is a nonprofit organization dedicated to providing a vast array of services, such as employment and training assistance, weatherization of homes, and area Head Start programs, in order to assist individuals and families in obtaining self-sufficiency. Through collaborative efforts of community and organizational partnerships, BSACAP seeks to improve the overall quality of life within the Floyd, Johnson, Martin, Magoffin, and Pike County communities. To learn more about BSACAP and their programs, visit www.bsacap.org or call (606) 789-3641.